Assembly of units of the first offshore helicopter has begun in Russia
The Russian Helicopters holding has announced the start of production of the first domestic offshore helicopter Mi-171A3. The assembly of individual components and assemblies of the machine started in the fall of 2020, and the creation of the first flight copy is scheduled for 2021.
The main task of the first offshore helicopter will be the maintenance of offshore drilling platforms of the companies of the fuel and energy complex: transportation of people and goods, as well as search and rescue operations.
As noted, for this, the Mi-171A3 will be equipped with an emergency landing system, liferafts, as well as modern navigation equipment for flights in poor visibility conditions. In addition, a special accident-resistant fuselage will be created for a vehicle designed for operation in the temperature range from -50 to +50 degrees.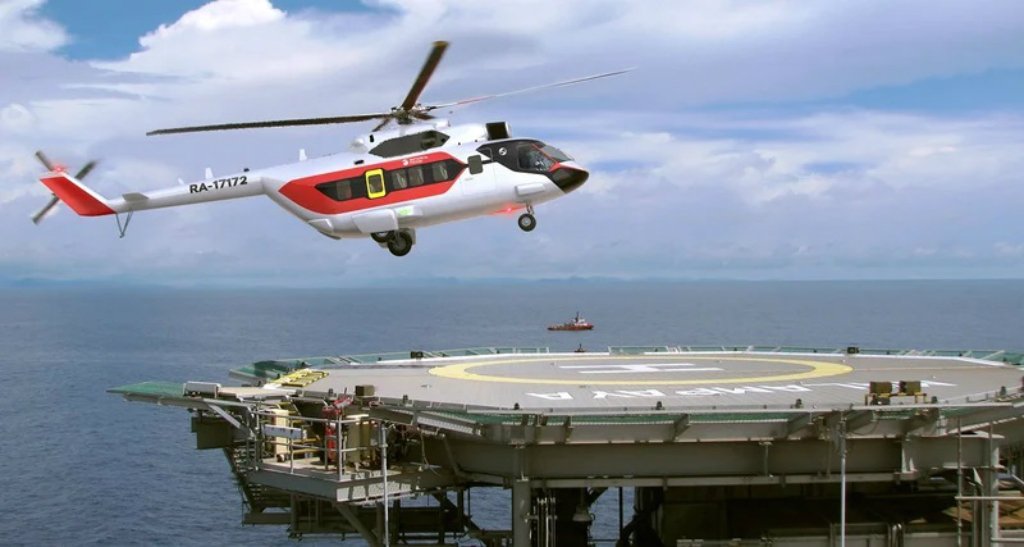 According to Anatoly Serdyukov, industrial director of the Rostec aviation cluster, "unique solutions" have been developed for the offshore helicopter, which will ensure maximum safety of flights over water. "The on-board equipment of the aircraft carries out navigation in high latitudes and communication with sea vessels," he noted, adding that the helicopter will be demonstrated for the first time at the MAKS aerospace show as "one of the key innovations of the state corporation".
In turn, the general director of Russian Helicopters, Andrei Boginsky, stressed that the Mi-171A3 will become "an extremely popular machine for offshore operations, created in cooperation with Rostec holdings".
"The expansion of hydrocarbon production on the Arctic shelf requires a fleet of reliable modern helicopters capable of operating in difficult conditions," Boginsky said.
It is reported that the maximum takeoff weight of the multipurpose Mi-171A3 will be 13 tons, the number of passengers carried – 23 people, and the maximum flight range – 1000 kilometers.
The Mi-171A3 is being developed in strict accordance with aviation regulations, including the requirements of the International Association of Oil and Gas Producers (IOGP). The manufacturers plan that the first production helicopters will be handed over to the launch customer in 2022.